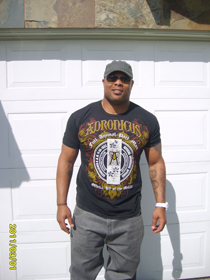 .
2009-10: Terrell had an outstanding 2009-10 season at Pacific, averaging 8.7 points and 3.7 rebounds per game ... He scored in double figures 13 times, including a career high 19 points against Cal State Northridge on March 6, making seven shots in 13 attempts ... He scored10 points and a career-high nine rebounds against Cal Poly on Feb. 6 ... He earned West Coast Classic All-Tournament honors after leading the Tigers with 14.0 points per game ... One of his best games came against Pepperdine on Nov. 13, where led the team with 14 points and added seven rebounds ... He tallied 18 points and five rebounds on Feb 17 at Long Beach State.
2008-09 (Sophomore): Starting 17 of the Tigers' 34 games, Terrell scored 209 points and was fourth on the team with 105 rebounds ... He scored in double-figures three times on the year ... On Feb. 2, Terrell scored a career-high 18 points, hitting 7-of-9 shots from the field ... He had career highs with seven rebounds and six assists against Cal State Bakersfield on Dec. 3 ... He scored a career-high 16 points at Nevada on Nov. 26, then scored followed up with 12 points at Washington on Nov. 29 ... He concluded the Tigers' three-game preseason trip to Canada with 20 points and 14 rebounds.
2007-08 (Freshman): Smith had a solid first season for the Tigers with 59 total points on the year and 50 rebounds ... Five times during the season he was perfect from the floor, making 100 percent of his shots ... Terrell's best performance came in his second-to-last game of the season, scoring seven points against UC Riverside on Mar. 4, a night in which he made all of his shots ... Smith started two contests for the Tigers against Cal State Fullerton on Feb. 16 and then again vs. San Jose State on Feb. 23 ... He closed out the year earning a spot on the Big West Conference All-Freshman Team in the postseason.
High School: Terrell Smith joined the Tigers after an outstanding career at Federal Way High School in Federal Way, Wash. ... He averaged 25.9 points per game as a senior, scoring 599 points ... Smith had just three games in which he scored less than 20 points ... He was named Tacoma News Tribune Player of the Year in 2006-07, in addition to earning Seattle Times and Seattle Post Intelligencer First Team All-State honors.
Personal: Terrell Smith was born in Seattle, Wash. ... He is the son of Wayne and Monica Smith ... He has two brothers, Damian and Jerron ... Terrell is a communication major in his fourth year at Pacific ... When not playing basketball, he enjoys video games and sleeping.
Coach Thomason on Smith: "Terrell has developed into a really good outside shooter. Getting to the free throw line is something we would like to see Terrell do more this year. If we can get Terrell to relax a little and not worry about how everything's going, I know he's going to have an outstanding year. We are counting on him being a leader."